The Ask
Support with the official launch of the business, including the development of a website and digital campaign to help convert new patients into the pre-registration process.

The Challenge
People often think about going to the dentist as an obligatory task that happens once or twice a year and that's it. Bite is working to change the narrative and help people focus on dental health as opposed to the aesthetics.
There were two specific goals to accomplish.
1. Design a website that was reflective of that core vision and highlight the culture of the clinic.
2. They wanted patients booked before the doors opened.
We needed to create a site that found a balance between entry level knowledge sharing for newbies and informational aspects for existing investors.
Creative solutions
Website
The website needed to feel approachable for families and share a feeling of empathy towards common frustrations with tooth pain, etc. With a video banner filled with happy, smiling faces, visitors are able to get a feeling of lifestyle and enjoyment, as a way to help connect the importance of a dental visit to overarching health and wellbeing. Strong positioning statements such as "Something to Smile About" and "The goal that unites us" set the tone for the information, with everything connecting back to a healthy, happy and hopeful life.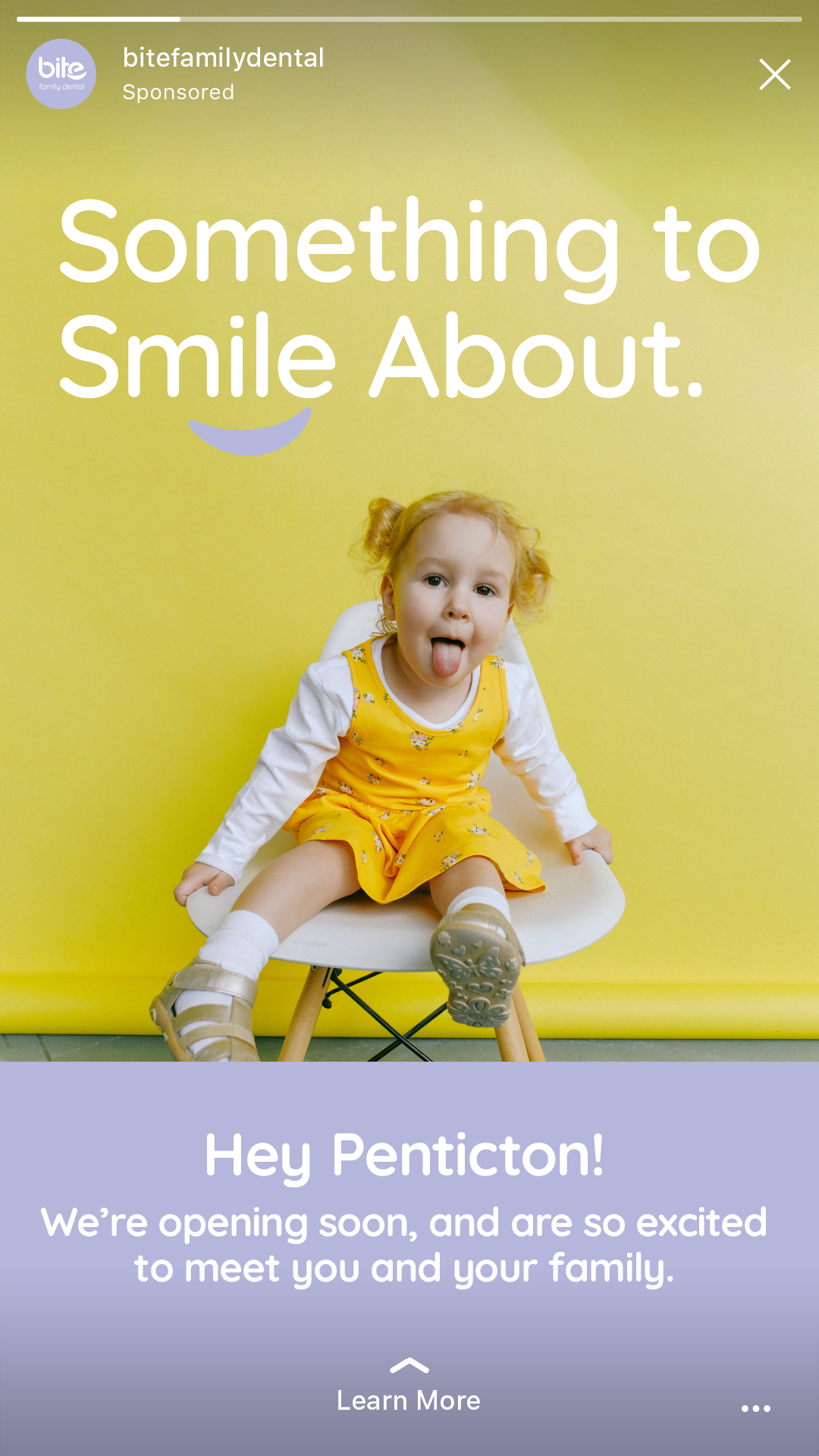 Digital campaign
In order to effectively get patients in the door when the clinic opened for business, advance registration became a key element of the project. Through a digital ad campaign on Facebook, Instagram and Google Search Ads, we helped drive new patients to a pre-registration process. This targeted campaign started running two months prior to the business opening and has helped establish brand awareness within the community.
Advertising
There's a lot of focus on digital campaigns; however, there is still an opportunity for traditional tools if it makes sense. To officially announce the opening, FirstUp designed a unique postcard that was distributed to several thousand households in Penticton to announce the new clinic, share the website information and encourage new patient sign-ups.